Our Services
Tennis Programs Victoria
Our love for all things tennis comes shining through!

1 on 1 Adults & Juniors Coaching
Group Coaching For Adults/Juniors
Player Pathways To The Pro Level
Tennis Club Development Services
Tennis Racquet Restring Services
Learn More
Learn More
Tennis Lessons & Coaching Melbourne
Our Commitment
Our love for all things tennis comes shining through!
The key element of TPV's point of difference is diversity. Diversity in the resources it brings to the development of junior players and the outcomes it helps the player achieve. TPV has an absolute commitment to variety in it's junior player development, so that the player's mindset is formed in the largest possible zone. TPV's aim is to provide players with a learning experience, aiding their personal/social development. Players must respect each other, opponents and staff. 
Players must display sportsmanship and be accountable for their actions. Players are expected to work co-operatively in practice and be supportive of peers when they compete. For this reason the program encourages players to compete in doubles tournament play with different partners, singles tournaments and club competitions. It is hoped players gain the conviction that you never lose until you stop fighting. It needs to be a fun, positive experience for the player and the parent. TPV has a professional relationship with specialist coaches, sports professionals and support staff.
Welcome To TPV
Tennis Programs Victoria has You Covered
Our Coach
Tennis Programs Victoria prides itself on utilising the most professional and experienced coaches from around Melbourne.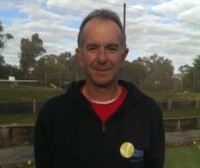 paul@tennisprogramsvictoria.com
Owner, Director
Owner Director of TPV. Professional circuit player for 7 years on the ATP tour. 27 years of...
Learn More
Learn More
Contact Us
Please fill out the form
and we will get back to you